AREAS OF PRACTICE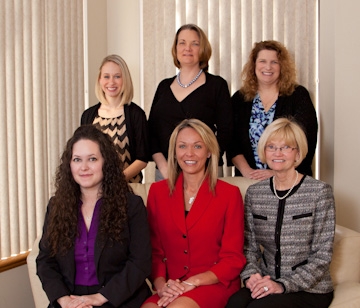 The Knolles Rosenbloom Law Group, PLLC is a trial firm representing plaintiffs in various types of litigation. Ms. Rosenbloom and her team of experienced attorneys and paralegals understand that when you are going through a stressful time, you need someone you can depend on. We make it our mission to provide every client with the dependable representation and guidance they need.
Areas of legal service we offer include, but are not limited to:
- Civil Litigation
- Oil and Gas Lease Negotiations
- Premises Liability
- Child Custody
- Child and Spousal Support
- Environmental Injury
- Contract and Agreement Negotiations and Drafting
- Divorce and Separation
- Protections From Abuse
- Estate Planning
- Real Estate Closings, Refinancing and Title Insurance
- Oil and Gas Litigation regarding Breach of Contract, Damage and Injury to the Client or their property
Oil and Gas Litigation
Environmental Injury
Civil Litigation
Our attorneys advise and represent our clients in a variety of legal matters before all levels of courts and various administrative agencies. We provide general counsel to assist every client in putting their affairs in order, so that litigation may be avoided whenever possible. Even in situations where litigation seems to be unavoidable, we help our clients assess the practicality of alternative dispute options, such as mediation, in order to determine the appropriate strategy in each case.
Whether you are a first time homebuyer or a seasoned investor, we can negotiate you the best deal. The results of our efforts will benefit you for years to come.
Estate Planning
The Knolles Rosenbloom Law Group, PLLC provides personal estate planning and probate services to clients, regardless of the size of their holdings. Our experienced staff is committed to providing the individualized services, timely response, and follow-up that are essential to meeting each client's personal needs.
Whether you are younger or older, married or single, a parent or without children; it is important to have an estate plan in place. Estate planning is the process by which an individual or family arranges the transfer of assets in anticipation of death. An estate plan aims to preserve the maximum amount of wealth possible for the intended beneficiaries and flexibility for the individual prior to death.
Divorce and Separation
Our attorneys will help you through the process of divorce, and are here to answer any questions you may have. We will provide you with options, create a case strategy, and negotiate with your well-being in mind. Our team understands the stress and emotions that can come with a divorce, so we are dedicated to helping you move on to the next phase of your life with your eye on the future that is still bright and promising.
Child Custody
When it comes to the custody of a child, it can be a very sensitive and emotionally charged issue. We will take into account the family dynamic, habits, and past behavior in order to work with the laws to create a custody plan that is designed with the best interests of the child in mind.
Spousal Support
The point of spousal support is to allow a spouse to become financially independent from their ex spouse. This is especially true for an ending marriage where one spouse makes a vast amount more money. Spousal support is determined by specific facts and circumstances of each client. We will gather the necessary information and evidence to support your position, and assist you with getting the spousal support you deserve.
For more information about any of our legal services, feel free to contact us today. We look forward to hearing from you.
Please keep in mind this site is for general information only. The information on this site should not be seen as legal advice nor the formation of a lawyer/client relationship.